36 Minutes


One of the great challenges of our time is the rediscovery and renewal of the Christian mystical tradition. In this video we went to the Kino Institute in Phoenix to visit Ernest Larkin, one of the pioneers in this modern attempt to reconnect with the Christian contemplative tradition.
Fr. Larkin taught in his own major seminary and at Catholic University for 20 years before going to Phoenix where he helped found the Kino Institute in 1972. Since 1981 he has been active in retreats, workshops, and writing, especially in promoting contemplative prayer and popularizing the teachings of the two Carmelite saints, Teresa of Avila and John of the Cross. He has written two books: Silent Presence and Christ Within Us.
In this video he talks about the history of contemplative prayer, how to go about it in today's world, and some of problems that can come up.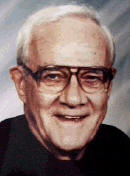 Click on this picture for video
Fr. Larkin died
on Oct. 26, 2006